Android phones are getting very popular because of the wide variety of apps available for the Android and thus it becomes very easy for android user. They can install apps of their choice and as per daily requirement. If you are a teenager, you can choose social media and game apps where as business users can install Financial and other business related apps.
Thus availability of so many apps and mostly free makes an android phone highly customizable for your usage. However some basic hardware must be present in the your phone. Anyway though most of application for android are free here we present few paid apps rather games which are worth to pay for and can be installed on your Android device —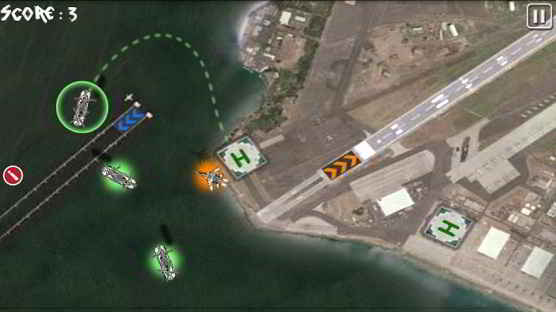 1. Flight Director — Prices at $1.99 this is one of the low priced Android game and my personal favorite. It fetches Satellite data and present it on your screen which make Air traffic control simulator more real and feel like you are the one who is controlling all the planes in the air. You need to practice a lot to get perfect plane landing and placement. It's really great fun having this in my android device.
2. Colorix — It look like a normal puzzle game which ask you to place gem in a particular order but it is actually not, It has several complex games to solve and some special gems placing them correctly is a real challenge. Priced at approximately 3$ I would say price for this game is still less than the fun you can have with it.
3. Zenonia — This game is a bit costlier compared to other games listed here priced at $5.99. It's role playing combat and exploration game. Great graphics, great control to play with Regret the main character of the game, There are many side quest available to compete with. Appearance of Regret changes according to scene and weapons he is carrying. Though a bit pricey but complete value for money.
4. Robo Defense — Moderately priced at $2.99, it is about managing inventory and stock during a war. It comes with 5 maps and unlimited upgrades and difficulty levels. One of the user on Android market posted "Love It! Keep those updates coming! I can't get enough' So you will every penny of your money back with fun, excitement, Thrill and UPDATES of the game. This one seem one perfect paid game which everyone should buy. And another good thing is you can actually try free version first before paying for it. I am sure you will but it once you try the free version.
5. Shoot U! — Like most other game this will also cost you $2.99. this is cleverly designed, and you need to understand some basic fundamental of Physics. Good for kids who just started learning physics, they can start doing practical while having fun and understand those laws very well. But if you are already a physics champion then let's see how good you are in applying that knowledge. It comes with 90 levels and you have to hit the target using the little guy in your canon. Very well designed and value for all my money.
6. Armored Strike Online — A little pricey at $3.99 but considering its strategy shooting game that price seems reasonable. Based on classic games like Death tank, you have option to play against your friend or against the computer if you are alone. It comes with 21 different weapons, math physics both comes into play as you need to fire based on Angle, speed, wind speed and direction and position of your enemy. You will get bonus in form of better weapon if you hit the target accurately. Unlimited Fun !
7. Buka — Again cost around 2$, This one is really a touch screen game, if you device does not have touch screen better you don't buy it as you will be disappointed and miss large fun while playing with keys. Objective is to find a safe place for Buka and destroy the enemies by creating shockwaves and explosion with your touch screen.
8. Radiant — This modern version of old age games based on Space invaders. Priced around 2$ value for money. It has got good and vibrant colors and graphics. It got more than 100 levels, 6 upgradeable weapons, 3 difficulty options, and many more thins for a nonstop fun time. It also supports Face book single sign on, using which you can compete on face book leader board or invite your friend to face challenges.
9. Space Physics — cost $2.99 Another good game for kids and for learning Physics as well as polishing drawing skills. In this game you make some drawing which will come into life and then the fun begins. Default installation comes with 1 level only, If you want more you need to install "Pack for space Physics" which gets you 80 more levels.
10. Sky Force — Priced around $3.25, this is one of the legendary classic Shooting arcade game. Have you played any of such in earlier years you would love this too. May not be good for new generation who never had fun with such classic Shooting games of past times.  Putting it in Android framework is really wonderful idea and the way it is optimized, I simply loved it.
These are some of the fantastic Best paid android games we collected for you, the list is endless and every game has some unique features, you may like some other for some obvious reason, don't forget to share your favorites using the Comment section below.