The Worldictionary is an ios app which helps to translate words instantly just by pointing your device camera on the respective words. It is one of the best translation app. Worldictionary smartly uses your device camera to recognize words for translation. There is no need to enter data manually. Worldictionary can recognize mulitple languages ranging from Traditional Chinese, Simplified Chinese, English, Japanese, Korean, French, German, Italian, Spanish, Portuguese, Dutch, Swedish, Finnish, Danish, Norwegian, Polish, Hungarian, Russian, Czech, Slovak and Romanian.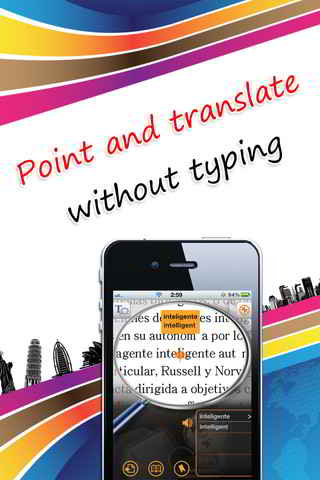 The View and Translate function in Worldictionary helps for a quick translation using device camera. For translating multiple words, take a snap of that sentence and then focus on the words one by one. For full sentence translation, take a snap of the sentence and then tap recognize button to read the content.
Additionally, you can know more about the translated word in Google, Wikipedia, or in YouTube.
Features of Worldictionary:
1) Anti-Shake function for good image quality.
2) Instant View and Translate function for quick results.
3) Advanced Search functions in Google, Wikipedia and in YouTube.
4) Automatic search records saving to build your own word database which helps in increasing translation efficiency.
5) Recognition of 21 different languages
6) Support for pronunciation for the translated results. Worldictonary supports 21 languages in pronunciation.
7) Support for translation from image.
Though Worldictionary translates words automatically, you can also type words manually and translate. Worldictionary requires in an internet connection. Worldictionary provides two in-app purchase in offline dictionary. Simplified – Chinese to English and Simplified Chinese – Japanese for $ 1.99 only. Worldictionary is handy travel tool which helps you to give translation on the go.
Worldictionary is compatible with iPhone 3GS/4/4S/5 or with iPad 2/3 and iPod touch 4/5. Worldictionary is available in the iTunes store for $3.99 only.